What is it?
Dues renewal invoices can be manually voided just as any other type of invoice, but doing so can cause a variety of issues. This guide will discuss how to properly void dues invoices, as well as how to correct any errors that arise from a dues invoice being manually voided.
First, the issues that can arise when a dues invoice is manually voided are listed below.
1. Manually voiding a dues invoice does not remove a user from their renewal period.
2. If you manually void a dues invoice, the system will not automatically replace it with a new dues invoice. When a new renewal notification is sent out to a user whose latest dues invoice was manually voided, the system will embed a link to the dues invoice in the message if the 'attach invoice' option is selected. This will result in the voided dues invoice being attached to the message, as there is no other invoice to use in its place. The user will then receive a renewal notification that possesses a link to an invoice that cannot be paid.
How to properly void a dues invoice
To void a dues invoice in a way that not only removes the user from their renewal period, but also prevents them from being emailed a link to a voided invoice, temporarily changing their Member Type is the answer.
When you change a user's Member Type, it removes the user from their renewal period because the parameters of their original renewal period no longer apply, as those are based on Member Type. The MemberClicks system will also sever any connection between the profile and the voided invoice, as the Member Type attached to that invoice is no longer relevant to the user's status. You will still see the invoice in the profile's Invoices tab, but the invoice will no longer be attached to any future membership notifications.
There are two ways to change a user's Member Type.
Method one: Changing a single user's Member Type
Enter a user's profile, then choose the edit option next to their Member Type attribute within the profile. Change it to a different Member Type, then change it right back to their original Member Type. This is pictured below.

Method two: Changing multiple users' Member Types
Navigate to the Profile List.

Tag your users who need their Member Type to be changed. Unless you're changing the Member Type of your entire database, we suggest tagging only one Member Type at a time. The reason for this will be explained further below.

Click the Actions tab at the bottom of the page and choose the Change Member Type option.
This is pictured below.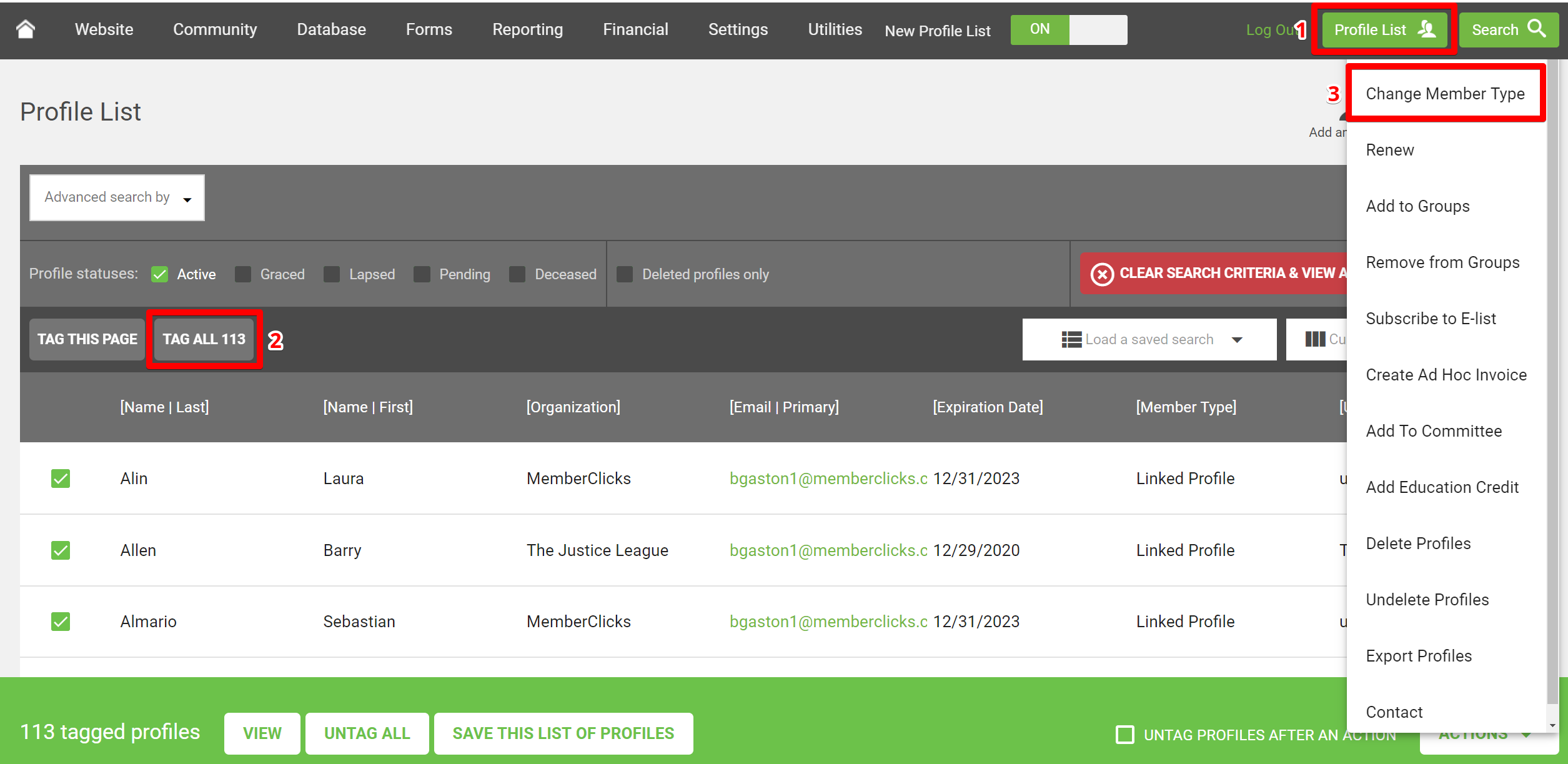 Once you change the Member Type of multiple users, do not untag the profiles. As we only want to temporarily change the Member Types of these profiles, keeping them tagged allows us to quickly pull these same users back up in the Profile List by clicking the 'View' button, which is pictured in the screenshot above. If you untag the profiles after changing their Member Types, you will not know which users you just changed and be forced to locate each one manually. It's for this reason we suggest you only edit one Member Type at a time, as you will be certain which Member Type you should change your tagged profiles back to.
If you're changing a large number of users, it will take a few minutes for them all to be switched over. To ensure they have all switched over as needed, navigate to your admin home page and refresh the page until the number in the Active column for that Member Type is reduced to the correct number. If you tagged all the profiles in that Member Type, that number should reach zero. An example is pictured below.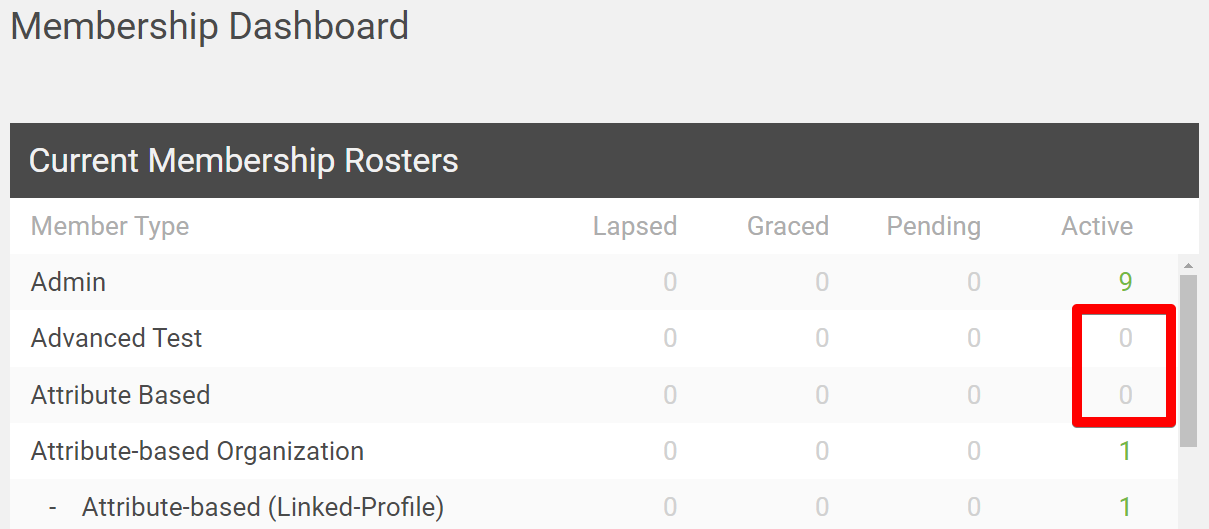 Once all of your members have switched over to a different Member Type, click the Profile List button->Click the View button in the lower left-hand corner of the page to view the tagged profiles->Click the Actions tab and choose to change their Member Type back to their original Member Type. This completes the process of removing your users from their renewal period and severing their connection to a voided dues invoice.
Will my users now receive a new renewal notification?
If your users possess an expiration date that is within range of your renewal notifications, then yes, the system will send them a renewal notification with a brand new invoice attached. That said, if a user has been expired for an extended period of time and their expiration date has fallen outside of your dues notifications' date ranges, then no, they will not. If you wish for all of your users that are near expiration or have expired to receive a new renewal notification with an invoice attached, you can achieve this by temporarily setting all of the profiles in question to the Active status. You can do this by clicking the Change Status button, which is pictured in the below screenshot.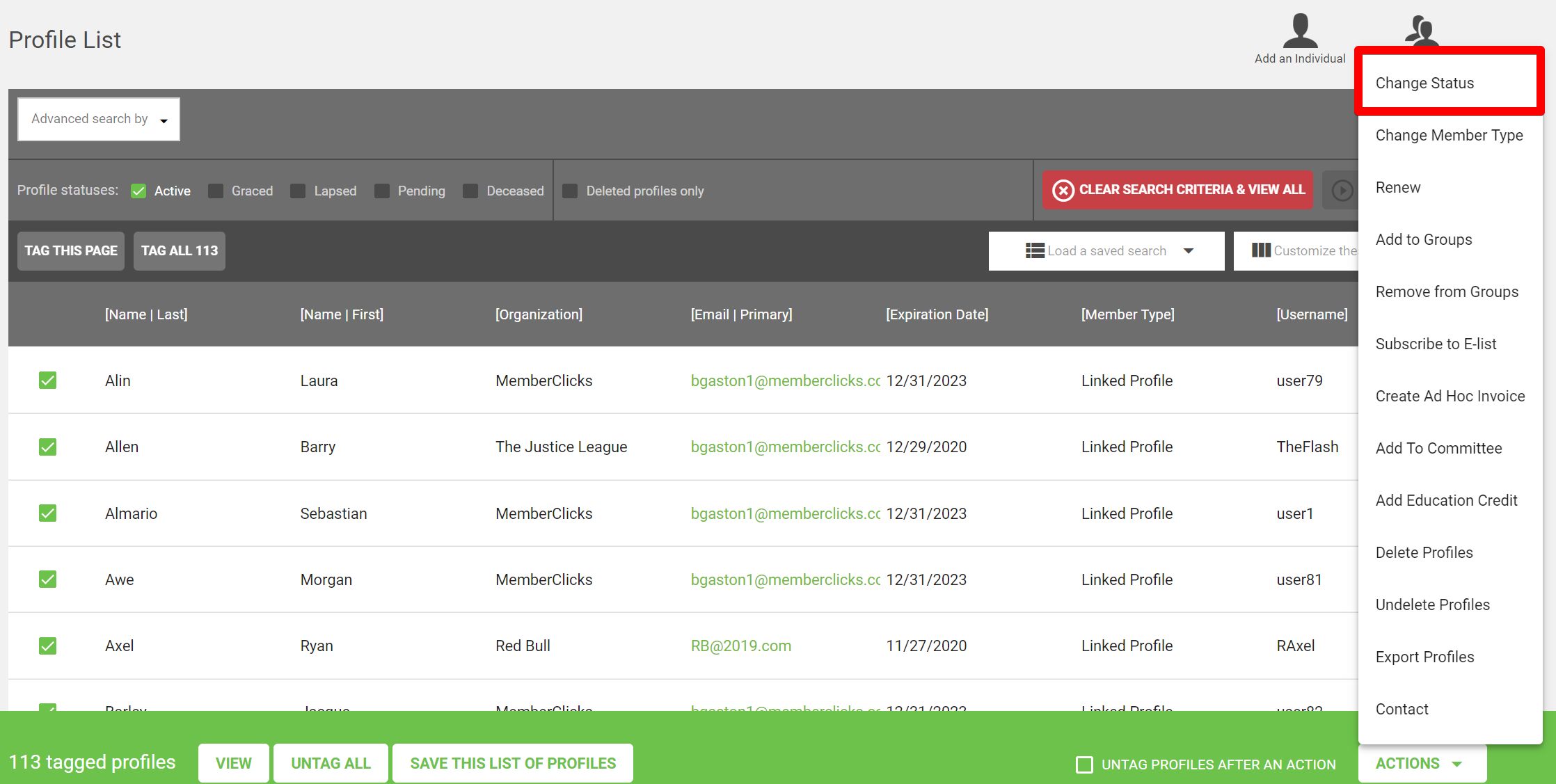 Why change them to the Active status?
When your system's membership automation runs each night, it checks all of your profiles to see if they need to receive a dues notification or an invoice. When it locates a user in the Active status whose expiration date is either in the past, or near enough that they should possess an open dues invoice, it perceives their lack of a dues invoice as a mistake. It will then correct the situation by sending the user a renewal notification with a newly generated invoice attached. If the user's expiration date is in the past, it will also change their status to whichever status they should actually be in, such as Graced or Lapsed. They will only stay in the Active status if they have not yet expired.
As for the notification the user receives, it will be the last notification they should have received based on their expiration date. For example, if a profile has been expired for 30 days, and you have a pair of notifications set to send out 15 days after expiration and 45 days after expiration, then the user will be sent the 15 day notification, as that is the last notification they would have naturally received.
Can you ever manually void a renewal invoice?
We never suggest manually voiding a renewal invoice, as this will cause an error to occur for that profile when the system next attempts to send them a new renewal invoice. It will fail to do so, and will instead send them either a copy of the voided invoice, or the last renewal invoice they manually paid. If you've accidentally manually voided a renewal invoice, change the user's Member Type to something else, then change it back. This will 'reset' their profile and sever their connection to the voided invoice.

How to manually create renewal invoices
To manually create a Renewal invoice, you have two options. The first is to enter a user's profile, click the Actions tab, then choose the Renew option. This is pictured below.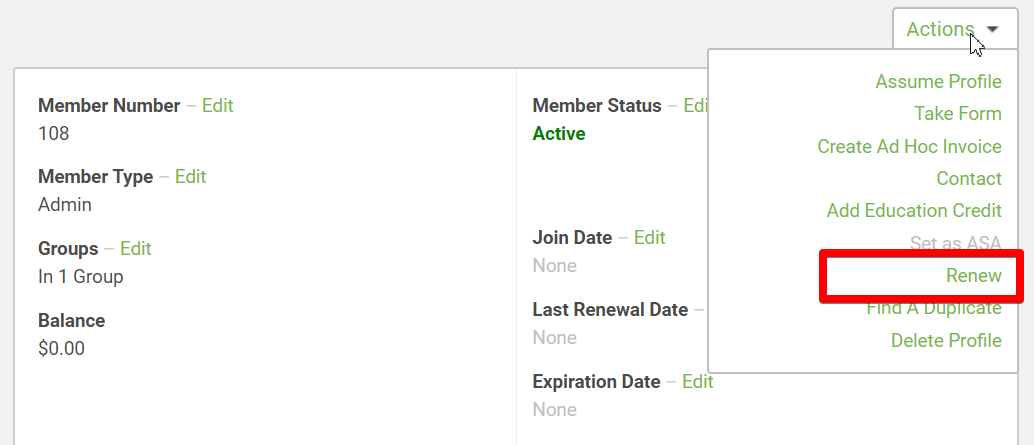 The second option is to tag multiple profiles, then click the Actions tab on the Profile List page and choose the Renew option. This will create a new invoice for any tagged profiles that don't already possess one. This is pictured below.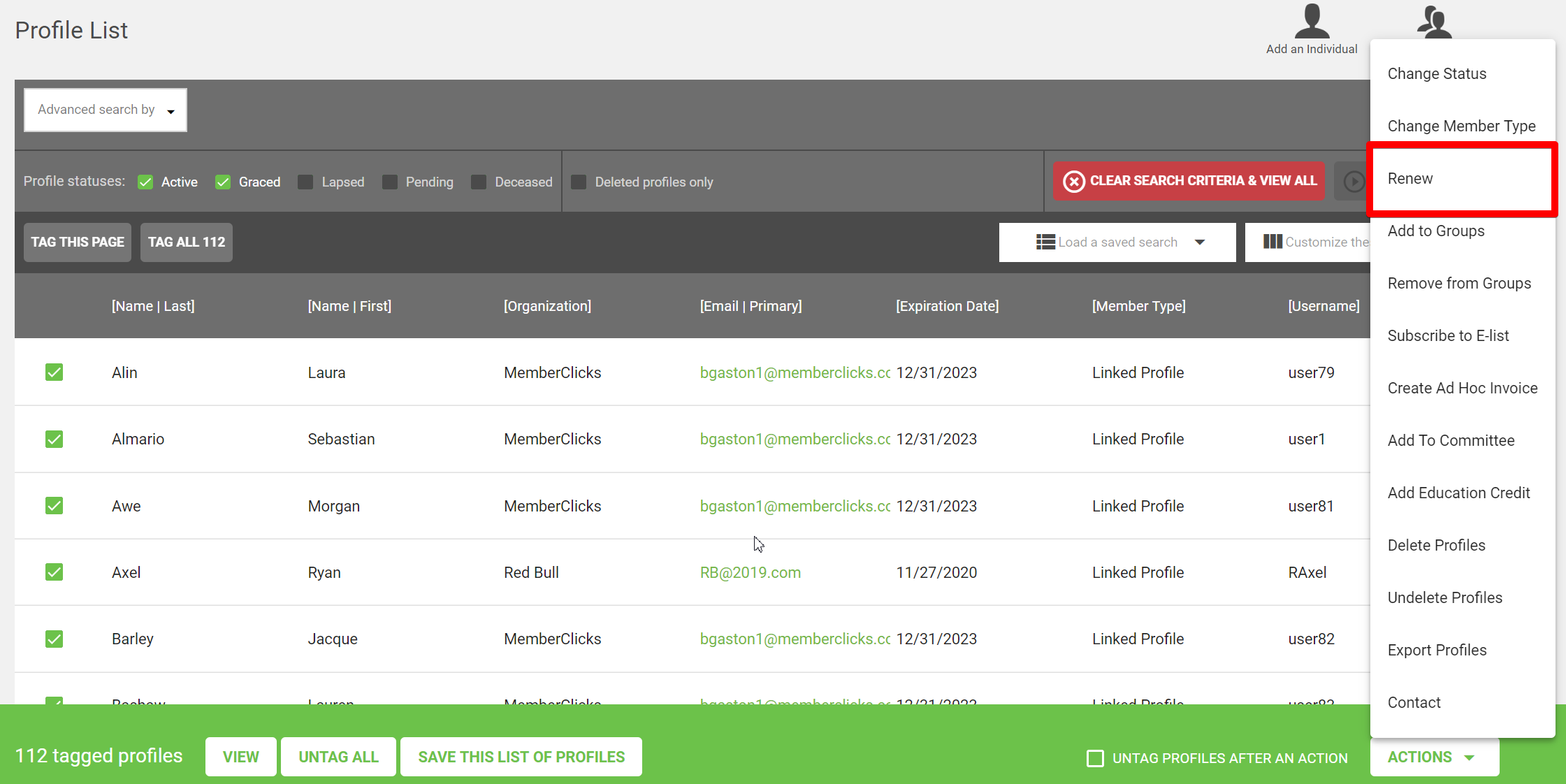 Manually created dues invoices do not use the automatic notifications attached to a Member Type. They will instead send out the 'new invoice notification' attached to the invoice template is assigned to your Member Types. To locate and edit this message, go to Financial->Invoices->Click the Invoice Templates button in the upper right-hand corner of the page. Once here, locate your dues invoice template and edit it. Choose to edit the 'Send New Invoice Email Notification' listed here to change the content that will send out when you manually create a dues invoice. The notification in questions is displayed in the screenshot below.