What is it?
Custom attributes are informational fields that store information within a user's profile. Some fields, such as text fields, record custom text inside of them, while others, such as selection sets, are best for listing a series of selections that the user can choose from. When a custom attribute is created, it must be assigned to the Member Types that you want to possess the attribute, as well as have its security permissions set in order to determine who can see the attribute. This guide details how to create, assign, and permission an attribute. If you are unfamiliar with the basics of attributes, such as how built-in attributes work, then it's best to view our overall attribute guide here.
Step One: Create an Attribute
To create an attribute, go to Database->Attributes->once here, scroll down until you see the custom attribute section represented in the screenshot below.
This is the Add Custom Attribute button, which you need to select in order to create a custom attribute.

This displays the name of an existing attribute.

This is the Actions column, which allows you to edit or copy an existing attribute. If the attribute is not in use within a user's profile, you will be able to delete it.

This switch determines whether or not the attribute is required to possess a value within the user's profile. This will not apply to form field permissions.
Tip: If you copy an attribute, it will maintain the same permissions and assignments as the attribute it was copied from. As such, if you're going to create an attribute that is similar to an existing attribute, it's often easier to copy an existing attribute and edit it, rather than create a new attribute from scratch.

Choose to either create a new attribute, or click the edit button next to an existing attribute. Once you do, you'll be able to either create or edit the attribute. Many attribute options are straightforward in how they operate. A number field only allows the entry of numbers into a text box. A date field will display a date in the mm/dd/year fashion. A file attribute will allow a file to be uploaded into a user's profile.
The two most common types of attributes that meet the majority of needs are text and selection set attributes. Text attributes allow an admin or the user to enter whatever content they wish into the attribute. Selection set attributes allow a user to choose a specific selection from a list of selections generated by an admin. Creating or editing a selection set will see you taken to a page that looks like the below.
This shows the attribute's type. Once an attribute is created, this cannot be changed.

This allows you to determine how many selections a user can choose within the selection set, as well as how it is displayed. If you choose a single selection option, then the user will only be able to choose one of the available selections. If you choose a multiple selection display type, then the user will be able to choose multiple options within the selection set.

This is where you can enter and add a new option to the selection set.

This displays the name of a selection, which you can edit at will, but not delete if someone has this selection chosen in their profile. This includes deleted profiles, as deleted profiles can be restored, thus the selections are still present in the profile.
Once you're done creating your attribute, hit the save button.
Step Two: Assigning Attributes
Once you've created an attribute, you will need to assign it to the Member Types that you wish to possess the attribute, as perhaps not all of your Member Types need this attribute present in their profile. To do this, go to Database->Member Types->hover over a Member Type and click the Edit Settings option that appears on the right. On the following page, click the Assign Custom Attributes button that is pictured in the image below.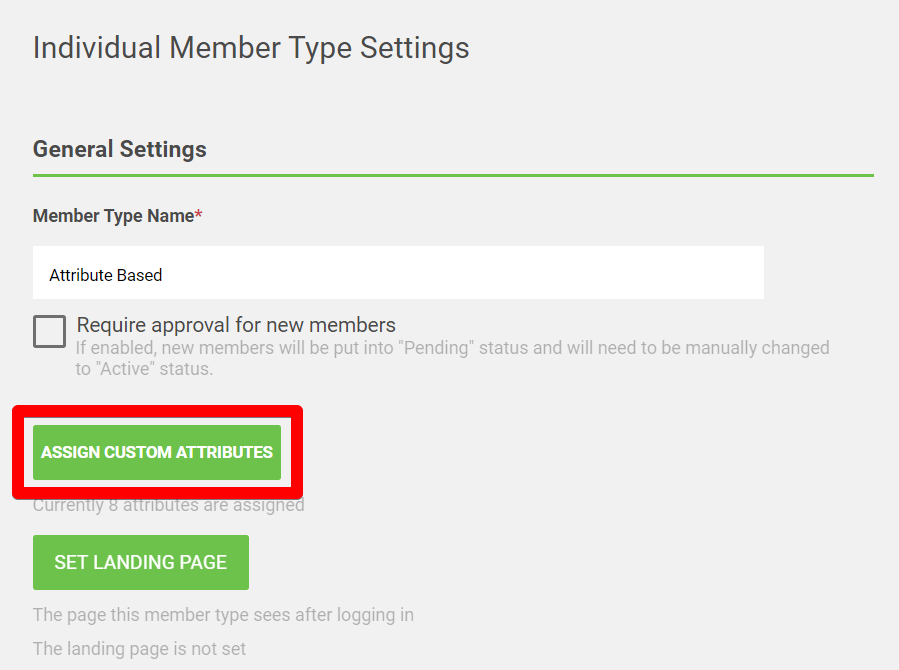 Once you do, locate the newly created attribute and check the box next to it, then save. This will assign the attribute to all the users in the edited Member Type, meaning it will appear in their profiles.
Step Three: Who Can See it?
ASA profiles will automatically be able to see this attribute inside a user's profile. For regular admins and other users, whether or not they can see this attribute inside of a user's profile is determined within the attribute security settings. If you're only interested in having an ASA see this attribute, then you've completed the steps in setting up your new attribute. If, however, you want other admins to see this attribute as well, or if you want this attribute to be searchable or seen by other members or users, you'll want to edit your attribute security permissions to make that possible. To do that, take a look at our guide on how to set up attribute security, which is linked here.